Maple tree planting for the Karwendelmarsch

In glorious spring weather at the end of May, the two first-place winners of last year's Karwendelmarsch met at Kleiner Ahornboden to plant their winning tree in the middle of the Naturpark Karwendel: Lena Laukner from Germany and Thomas Farbmacher from Tyrol were successful in the summer of 2021 and so they were now – in keeping with tradition – entitled to plant their own tree in the picturesque ambience of the Karwendel Mountains. The two were accompanied and actively supported by Hermann Sonntag (Managing Director of the Naturpark Karwendel) and the responsible persons of the organising tourism associations Seefeld and Achensee.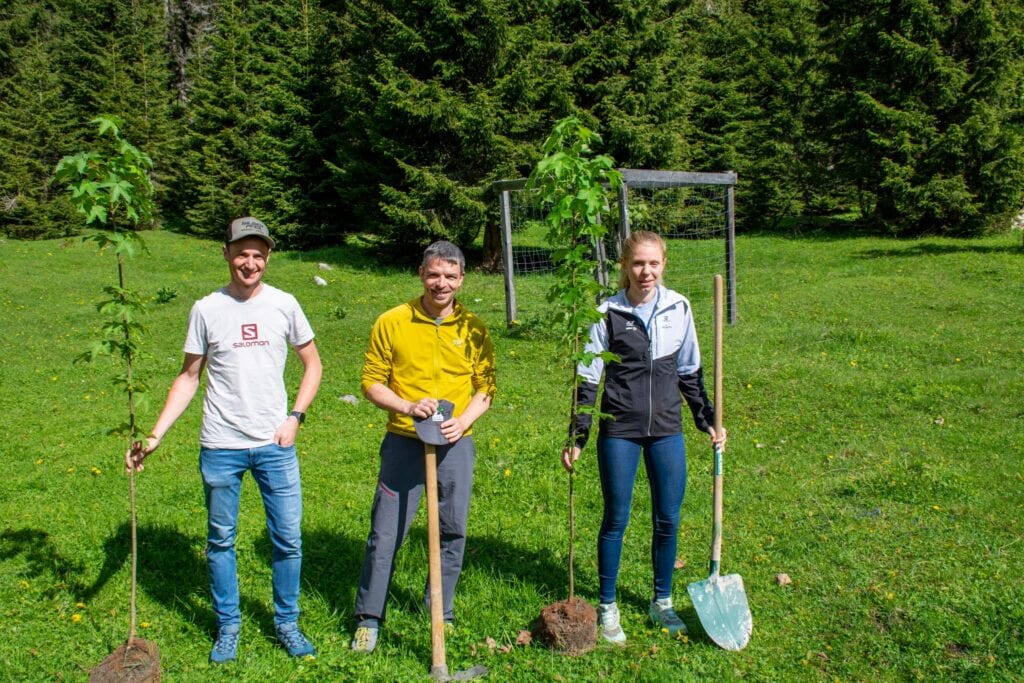 For us, the Karwendelmarsch is an important platform to draw attention to our concerns in cooperation with the Seefeld and Achensee tourism associations. A maple tree as a prize is of course something very special, you get trophies at every competition, but a maple tree only at the Karwendelmarsch. The prize is just as unique ad the landscape here in the Karwendel," says Hermann Sonntag (Managing Director of the Naturpark Karwendel). Last year's winner Lena Laukner has a similar opinion: "I've never won a tree before, that's quite special. Of course I will visit my tree from time to time, I can go for a great run here." Thomas Farbmacher, winner in the men's category at the Karwendelmarsch: "I've already been to the Karwendelmarsch several times and have also taken part in the Karwendelmarsch training camp. The event is something very special – from the food to the atmosphere simply top! I will certainly cycle past here at the Kleiner Ahornboden soon and watch my tree grow."  
TVB Seefeld and Achensee Tourism: Together for the Karwendelmarsch
The legendary hiking and mountain running event between the Region Seefeld and Achensee will of course take place again this year: At the end of August, over 2,000 sports enthusiasts will cross the Karwendel Mountains. Elias Walser (Managing Director Region Seefeld – Tyrol's High Plateau): "After all, we border directly on the Karwendel Nature Park. This mountain range is a recreational area for locals and guests. And the Karwendelmarsch is simply a legendary event that we naturally love to be a part of." Maria Wirtenberger (Deputy Managing Director of Achensee Tourism): "As Tyrol's Sport & Vital Park, we have the opportunity to demonstrate special expertise in mountain sports, hiking but also trail running through the Karwendelmarsch. The Karwendelmarsch is an annual highlight in our summer programme, and the anticipation for 27 August is accordingly great."
After an hour of digging, planting and smiling for the camera, all of the participants of this activity went back to their offices with smiles on their faces and already looking forward to this year's, namely the 13th edition of the Karwendelmarsch.
.
More Posts: